1. Sign in/ Create account :
If you are our new customer, please click on 'Create account' and fill in the details. If you already have an account, please sign in with your email and registered password.
2. Add desired item to cart :
After signing in, you can browse through the catalog. Once you come across the item that you need, please choose the size/color carefully then add to cart. If you want to look for something that is on our Instagram, it is easier to search for the item name. Most of our Instagram caption will describe the item name, if you can't find the item on website, that means the item is no longer available to purchase. If you can't find the item name, please feel free to chat us~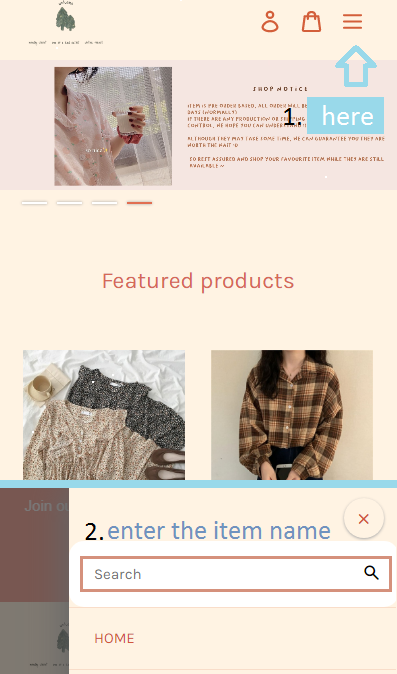 3. Proceed to checkout :
When you are done shopping, click on the 'Checkout' button to proceed with delivery details and payment total. If you have any discount code, please apply it before check out.
4. Shipping address :
During checkout, you will be prompt to fill in the shipping address for your order, note that Zip code is your address post code. You can find your order summary including the shipping fees on the same page. If you have special note to the order receiver (wish/gift), you may leave the message in remark box.
5. Confirming order and shipping details :
Before clicking on 'Place order now', please make sure all your shipping details, email address, and contact are correct, so does the item you'd like to order.
6. Payment method :
Payment method is by Bank Transfer only, our payment details will be given when you click on 'Place order now'. You can pay your order by using online banking or by using ATM/CDM machines.
7. Submit order payment receipt:
When you have done with payment, please go to 'My Account', you will find your order number and status here. Click on the order number and scroll down until you see 'choose file' and upload button. Please choose your payment receipt and click submit. Reference ID is not compulsory.
8. Order success and estimate delivery date :
You will receive an confirmation email once your order has been change to 'Paid'. We will process your order accordingly, please find order estimate delivery in order invoice or payment receipt. In additional, we will notify you when your order is ready to ship from us.
Thank you for reading & happy shopping !